Inbound students Study Abroad and Exchange at the University of Melbourne
Returning students
Returned exchange students are Melbourne Global Mobility's most valuable asset!
By hearing of your experiences and suggestions, we can improve our services for future exchange students. As a returned exchange student, Melbourne Global Mobility invites you to share your overseas experience in various ways.
Please take a few moments to fill out the Melbourne Global Outbound Returnee Survey. If you would like to win a free movie voucher please remember to include your email address.
Check out the Returning Student Guide (below) to get advice on how to deal with re-entry shock and how to incorporate your experience abroad in your CV and cover letter.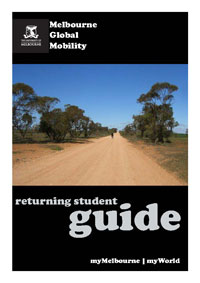 (324KB pdf)
Returning home
The common belief is that returning home is a simple matter of getting resettled, resuming previous routines, and re-establishing relationships. Studies and discussions with returned students, however, have shown that while often eagerly anticipated, the re-entry process can be a potentially challenging and frustrating one due to the unexpectedness of the psychological, social and cultural adjustments that have to be managed. Here are some tips from returned students which may help you prepare for the emotional and psychological re-adjustment to your home culture:
Prepare for the re-entry process
Try to put some time aside to think about how you might feel and how you might handle possible situations upon your return home. Anticipating can be helpful. Also, if available, consider attending any "Returning Home" or similar programs run by your host institution and Melbourne Global Mobility. These might include:
the procedure for moving out of your accommodation
sorting out your finances
packing up and sending your goods home
health promotion and
the psychological adjustment to returning home.
Allow yourself time
Don't expect that you will fit in immediately with life back home. Re-adjustment takes time and involves experiencing a lot of different feelings and reactions. Try to reflect daily on what you observe and how you are responding.
Understand that for a while, the familiar will seem different
You are likely to experience your culture from an altered perspective, one that can lead to greater insight and contribute to personal learning. Talking with other returned students can help put this in perspective.
There will be much "cultural catching up" to do
Cultures are dynamic and ever changing. Catching up on what has changed can be very tiring. At times, you may feel very irritable or wish to withdraw. Try to have plenty of rest and spend some time in quiet conversation with family and/or old friends.
Respond thoughtfully and carefully
You are likely to be the centre of your family's attention for a while as they try to judge whether you have changed in ways that worry them greatly. Try to listen and refrain from making hasty judgements. Be sensitive to the differences between your and your family's experiences while you were overseas.
Beware of comparisons
Avoid making comparisons between cultures and nations. All cultures are a mix of good and bad. Try to remain flexible and keep a balanced view.
Seek support networks
If possible, try to get in touch with other returned students when you are back in Australia. You may find it helpful hearing their stories of re-adjustment – the things that worked for them and the ones that didn't. The International Centre will be able to put you in touch with these students.
Above all, give yourself time to resettle and remember that you have gained important life skills while studying abroad that will assist you to re-orientate yourself to being at home.
References
Returning Home – A ready reference for students completing their studies at the University of Melbourne, June 1999
STUDENT SERVICES, The University of Melbourne.
Ten Top Immediate Re-entry Challenges – as rated by University Students Preparing to Return Home – Quick Tips
DR. BRUCE LA BRACK, School of International Studies, University of the Pacific.
Other information
Events (debriefing session, helping new exchange students)
Return to the top of the page